Discover our Hermes Birkin Bags at VINTAGE PARIS Stores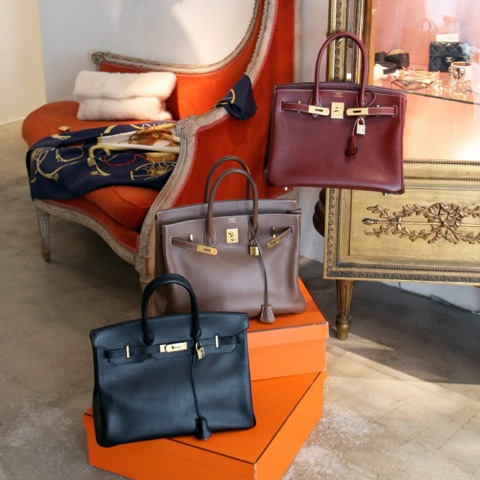 The Kelly bag, formerly known as the Sac à Dépêches is a leather handbag designed by the Paris-based, high-fashion luxury-goods manufacturer Hermes.

Originally a saddle holder, it was redesigned several times before it was popularized by and then named after the American actress and Monégasque princess Grace Kelly.The bag is now an expensive statut symbol.

The prototype of the Kelly bag, introduced around 1892, was a large bag used for holding a saddle, and was known as Haut à courroies because of its high handle. In 1923, Émile-Maurice Hermès and Ettore Bugatti designed a thoroughly simple and plain bag for Hermès's wife Julie.

It was meant to fit into a car door and to allow riders to carry their saddle. In the 1930s, Hermès's son-in-law Robert Dumas redesigned it as a spacious travel bag called Sac à dépêches. It was a sharp contrast to the dominant purses of the time, which were simple, small and flat, resembling envelopes. The handbag gradually went on to become stiff and boxy.